Rice lake is very shallow rarely reaching more than 25 ft. Weedbeds and mudflats are abundant. Panfish abound in these waters and where there are panfish, you'll also find predatory fish, such as bass, walleye, and muskie.
The Lake supports one of Ontario's largest and most productive inland fisheries, producing more fish per acre than any other lake in Ontario. The healthy mix of panfish and their predators mean there is fish for every level of angling skill. Whether it is trolling from a boat or casting a bobber from the edge of a floating dock, the thrill of pulling in a fighting, thrashing finny prize is available to everyone.
There are numerous tournaments held on the lake each year. It is a favourite with pro bass anglers, giving up smallmouth and largemouth in highly photogenic large sizes, as one of our regular renters demonstrates in the photograph  below.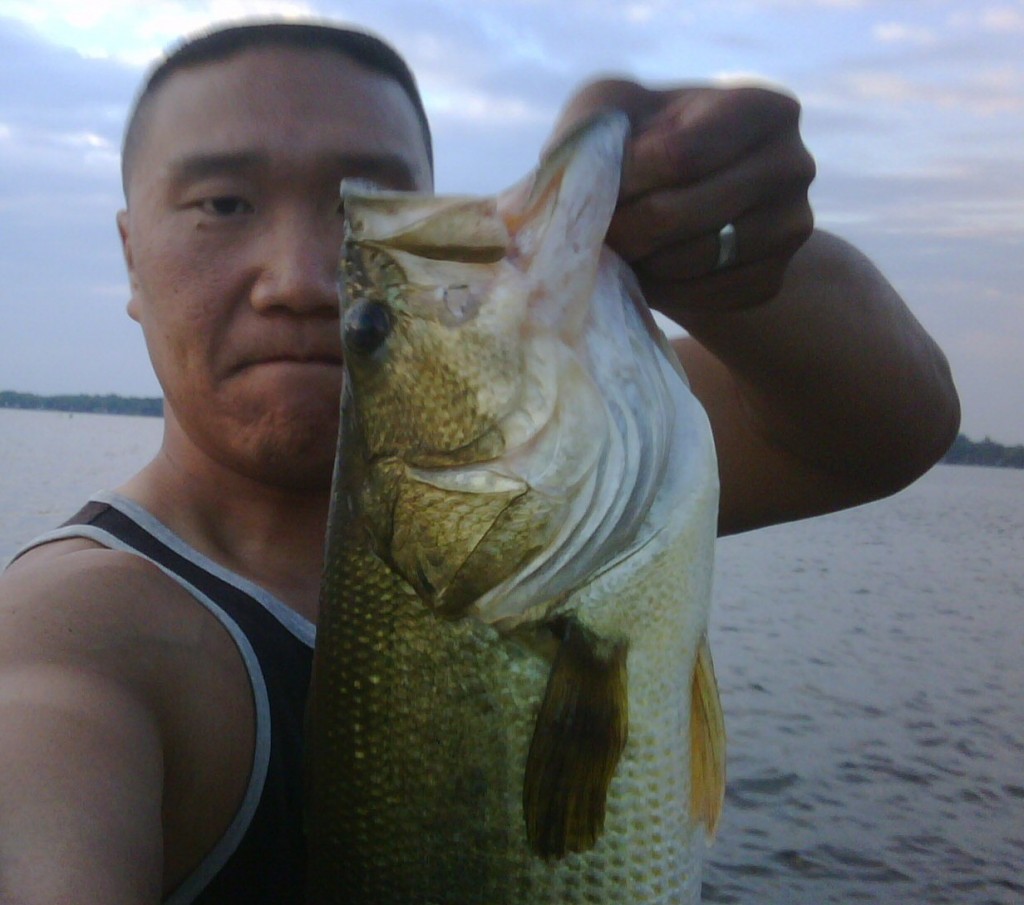 Walleye and muskie can also be found on the lake.
For spring walleye, check out the weed flats around Bewdley. Also the mouth of the Otonobee river has proven a good spot. Try jigs tipped with minnows or worms. Once summer hits, you'll do best in the deeper channels on the south end of the lake. Try trolling just out from Gores Landing.
Largemouth bass can be found in those same Bewdley weed beds. Also off the mouth of the Otanabee near Cow Island. You could try going up the Otanabee and hitting the lilly pads near Bensfort Bridge.
Smallmouth can be found in the deeper waters. The drop-off near Tick Island is a good spot.
Crappie fishing is great in the spring. It is quite common to land 1 pound crappie.
Rice Lake is known thoughtout North America for it's Muskie fishing. The deeper waters on the south end of the lake are your best bet. Trolling is the best method. While 10-15 pound muskies are commonly caught, some fish in the 30 pound range are caught every year.