Rice Lake is a lake located in south-eastern Ontario, in Northumberland County , south of Peterborough and north of Cobourg.
The lake is part of the Trent-Severn Waterway, which flows into the lake by the Otonabee river and out via the Trent. The lake is 32 km long and 5 km wide making it one of the largest of the Kawartha lakes.
The Natives called it Pemadashdakota or "lake of the burning plains".
A drumlin field is located northwest of the lake, and the lake's islands are partially submerged drumlins. Rice Lake nearly bisects the Oak Ridges Moraine, with three wedges to the west (Albion, Uxbridge and Pontypool), and one wedge to the east (Rice Lake) which has terminus at the Trent River. A narrow corridor to the south of Rice Lake connects these wedges.
The lake is fairly shallow and was named for the wild rice which grew in it and was harvested by native people of the area. Most of the extensive stands of wild rice originally found in the lake were wiped out when water levels were raised in the lake during the construction of the waterway.
The village of Bewdley sits on the West end of the lake and the town of Hastings sits on the East.
Prehistoric burial mounds are found at Serpent Mounds Park on the north shore of the lake.
Photo by Colin Old
The text on the historical plaque reads:
"Two thousand years ago, Aboriginal people gathered nearby in large settlements in spring and summer to hunt, fish and collect freshwater mussels. Here, for over three centuries, these people built mounds to bury and revere their dead. These nine mounds and other closely related sites provide an exceptionally complete record of life at that time. The mound shaped like a serpent, the only one of its kind in Canada, is over 60 metres long and almost eight metres wide. Mississauga people of this area are now the proud stewards of these ancient sites."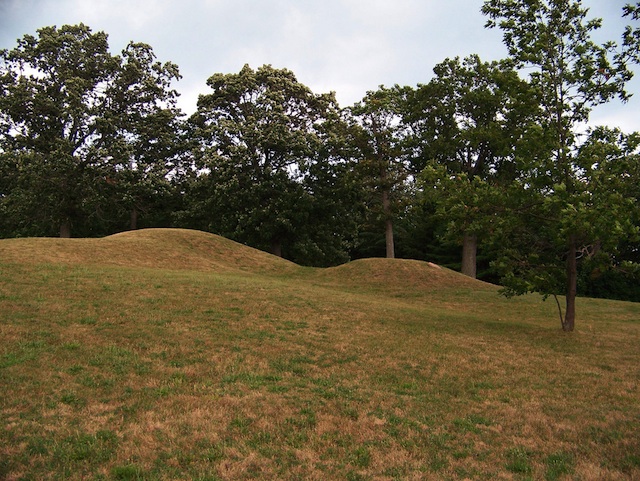 Photo by contributor William Stewart
Rice Lake is an attractive tourist area but is most famous for its fish. Annual fishing contests are held at Rice Lake, as well as personal fishing. Rice Lake is said to be the lake with most fish per acre in Ontario. Panfish, Walleye, Muskie and Bass are found in Rice Lake's waters.